CR17 Campaign Funders Exposed
CR17 Campaign Funders Exposed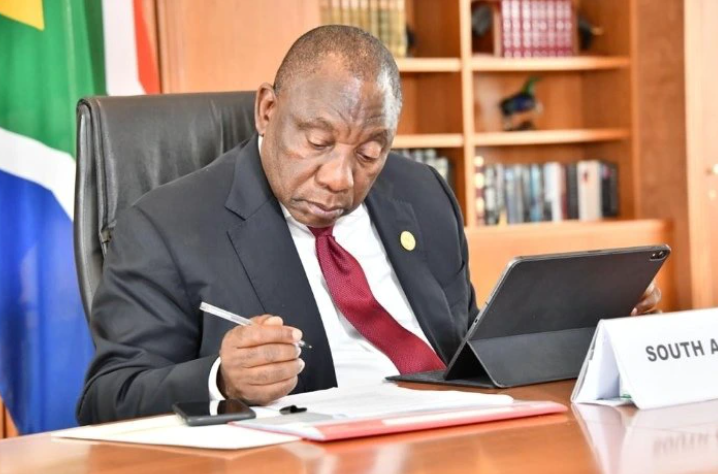 The dismissal by Pretoria High Court of the Economic Freedom Fighters application to unseal CR17 bank statements with costs led many to dig deeper dating from 2017 so as to try and understand why Cyril Ramaphosa's funders for his presidential campaign were so much concerned about concealing their identity.
Ramaphosa since he came into power has been preaching the gospel of transparency, rooting out corrupt, but ironically he is failing to lead by example and unseal the CR17 bank statements so that the public can see that he is indeed honest and transparent as he claims.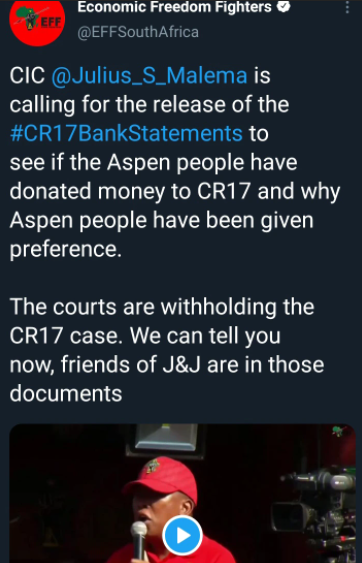 Some information has emerged exposing some of the CR17 funders and one of them is a big bigwig of a pharmaceutical company Aspen which donated millions of Rands to CR17 campaign in 2017.
It is alleged that a businessman whose company scored a R2 billion pharmaceutical tender in 2015 is among the donors who gave a total of R1bn to President Cyril Ramaphosa's ANC leadership campaign in 2017.
Stavros Nicolaou, of pharmaceutical company Aspen, donated millions of rands to the CR17 campaign trust account through an organisation called the Hellenic, Italian and Portuguese Alliance (HIP Alliance) in 2017.
According to an article by the Independent Online News, there were leaked emails and other CR17 campaign records which shows that Nicolaou also mobilised 23 other prominent businessmen to do the same at a cocktail party which was organized by Ramaphosa's adviser Donné Nicol.
It is also alleged that other prominent donors included Pick n Pay owner Raymond Ackerman, also donated R1 million to Cyril Ramaphosa's presidential campaign.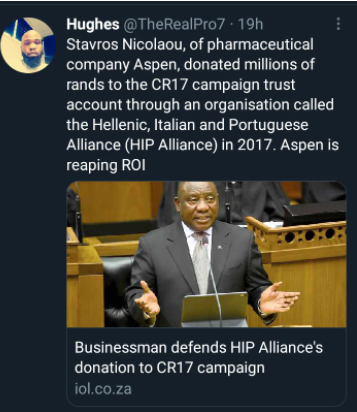 Source: https://www.iol.co.za/amp/news/politics/businessman-defends-hip-alliances-donation-to-cr17-campaign-30297924?__twitter_impression=true
Julius Malema had previously raised concerns about Aspen being one of Cyril's campaign funders.
He has called for the release of the #CR17BankStatements to see if the Aspen people have donated money to CR17 and why Aspen people have been given preference.
"The courts are withholding the CR17 case. We can tell you now, friends of J&J are in those documents," said Malema.
Source: https://twitter.com/EFFSouthAfrica/status/1408457977028354050?s=19
Content created and supplied by: yunahbvumbwe (via Opera News )