STYLISH AFRICAN PRINT ANKARA JACKETS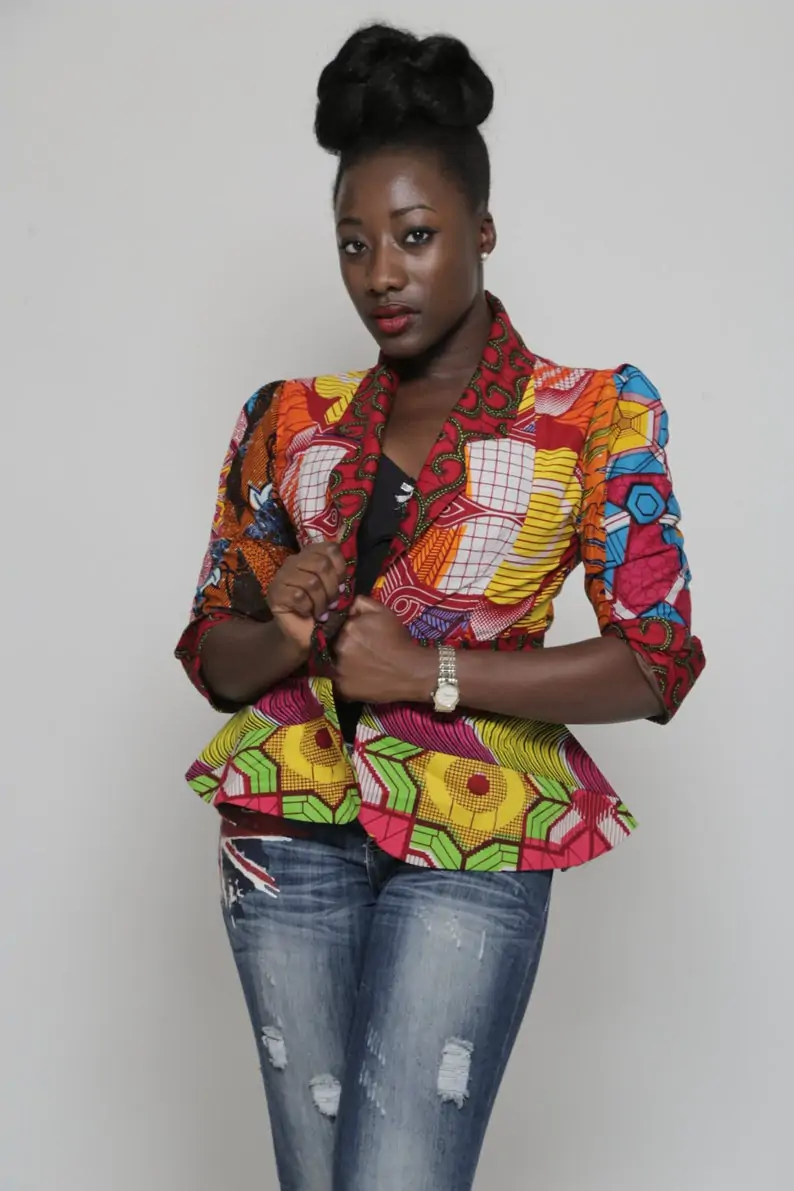 It's no secret that ankara jackets are becoming a huge part of western culture. Only a few years ago, you would have gotten weird stares at your African print attire.
Now, we spot these magnificent prints on the red carpets, in movies, and music. You'll probably get a compliment or two about how unique your outfit is. And that, my friends, is a stride in the right direction.
VIBRANT ANKARA BOMBER JACKET BY BORIAH CLOTHIERS
This versatile African print bomber is super stunning! The print, fitted varsity cuff, and collar make it stand out even more. And if you're not already familiar with Boriah, she's the queen of ankara jackets for men and women. I own a few of her pieces (ankara bomber included!!). This particular style is unisex and can be customized to your needs.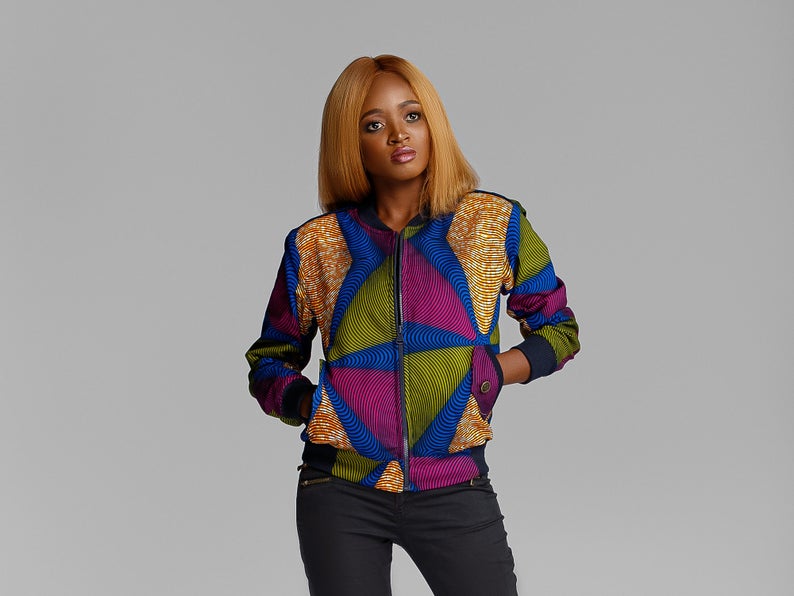 LONG SLEEVE JACKET BY SHENBOLEN
If you're still craving more African print jackets, this affordable ankara top will surely satisfy your desire. The bright colors contrast beautifully against the bold circles to make this jacket stand out. It features unhidden front zippers and a simple round neckline.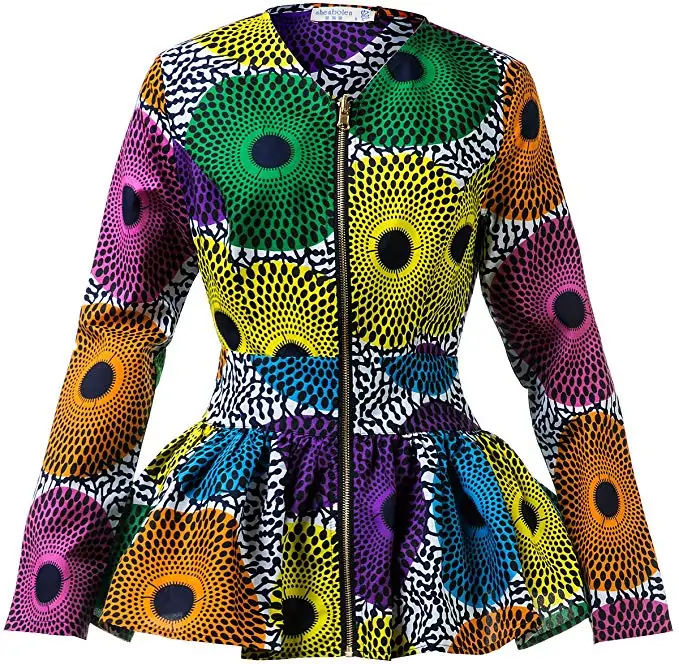 WAX PRINT BOMBER JACKET BY GITAS PORTAL
Bomber jackets are a great add on to transform a rather plain outfit. And this jacket from Gitas Portal is everything and then some. The print, colors, and cut just pops! Pair this beauty with jeans and even leggings for a clean, dressed up casual look.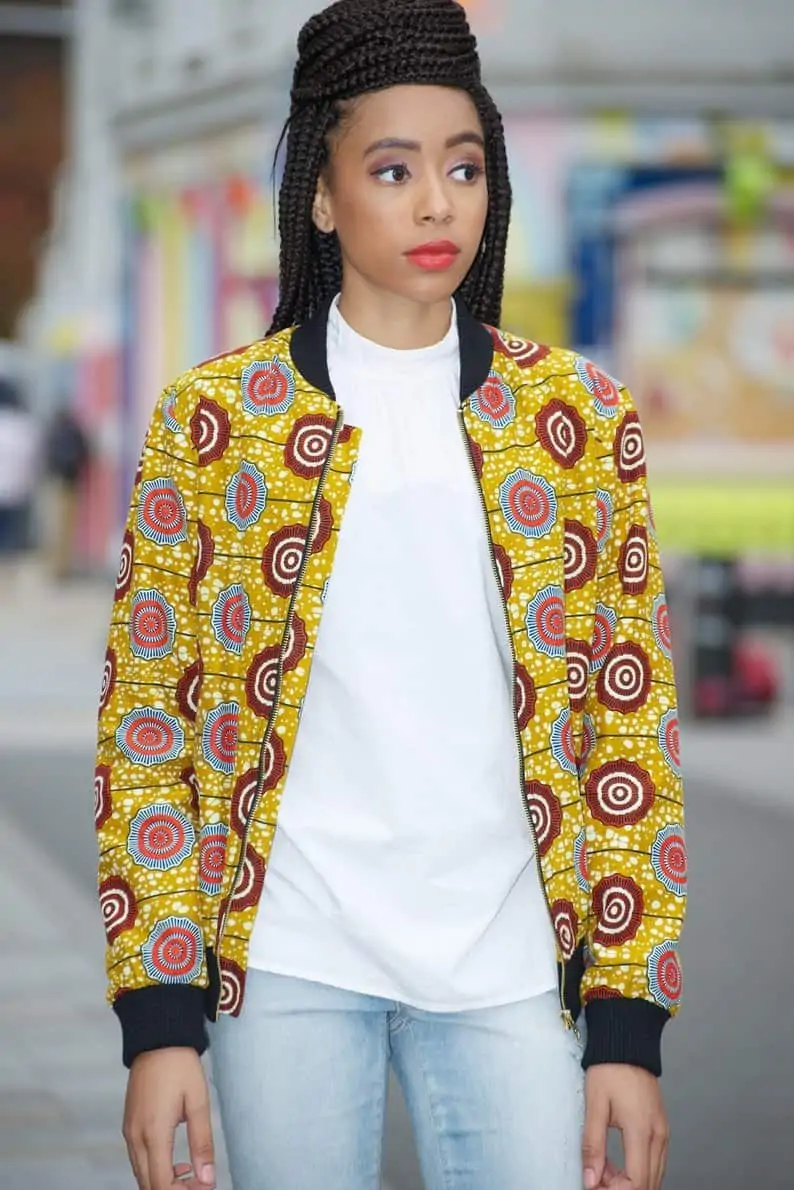 AFRICAN PRINT PEPLUM JACKET BY ANNA TEIKO
One word about this peplum jacket, "way-ment!" With the way Anna Teiko designed this classy, work-ready peplum jacket, you're guaranteed to a unique ankara piece.
This mid-sleeve outerwear will be your go-to wax print clothing for a subtle ankara look that pops. And although the fabric is vibrant, this ethnic jacket is not over the top.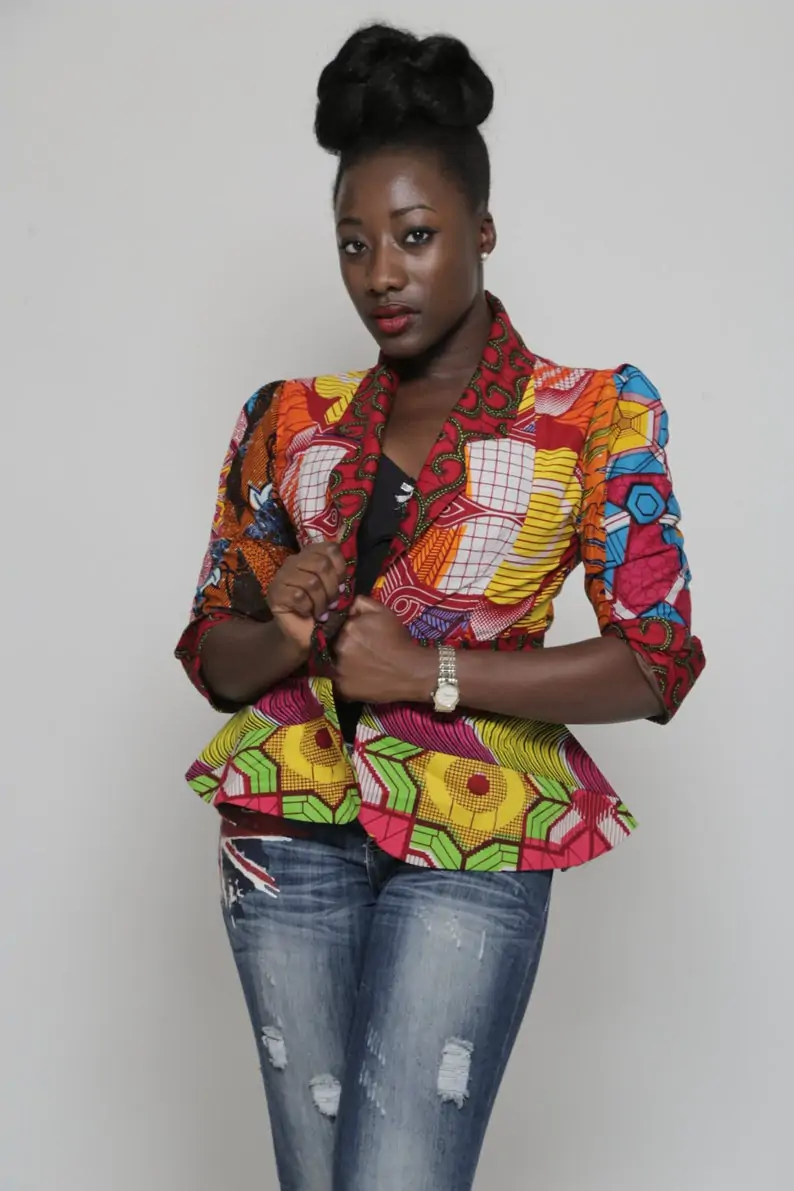 WAX PRINT CAPE JACKET BY AFRICAN DRESS SHOP
What's not to love about this gorgeous ankara cape made with premium African print cotton? The good news is that this jacket hangs beautifully on your shoulder without the need for fasteners.
It looks like a cross between a traditional jacket and a fitted suit jacket. A very neat concept! However, the ankara cape is almost sold out.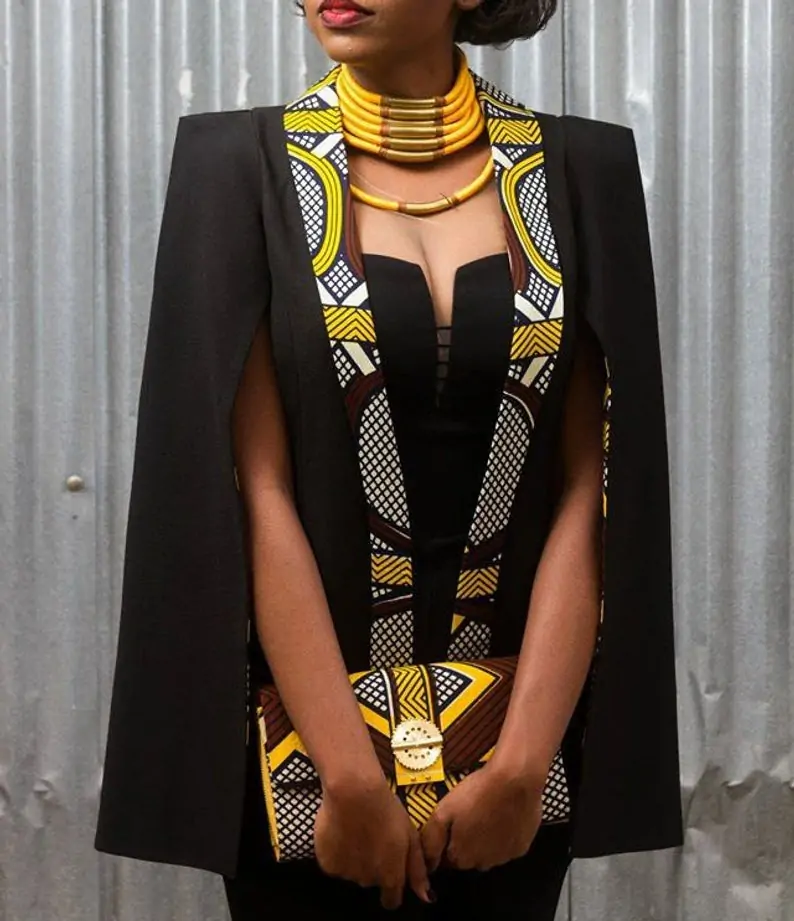 DAMI DOUBLE-BREASTED JACKET BY YETUNDE SARUMI
Oh, la la! Get ready for non-stop compliments in this Yetunde Sarumi statement jacket. The jacket fully lined with front pockets (yay!) and front button closure for convenience.
The oversized collar makes this Ankara jacket pop. If you own any piece from Yetunde Sarumi, you can relate to how I feel about this beauty. If you know, you know! #just saying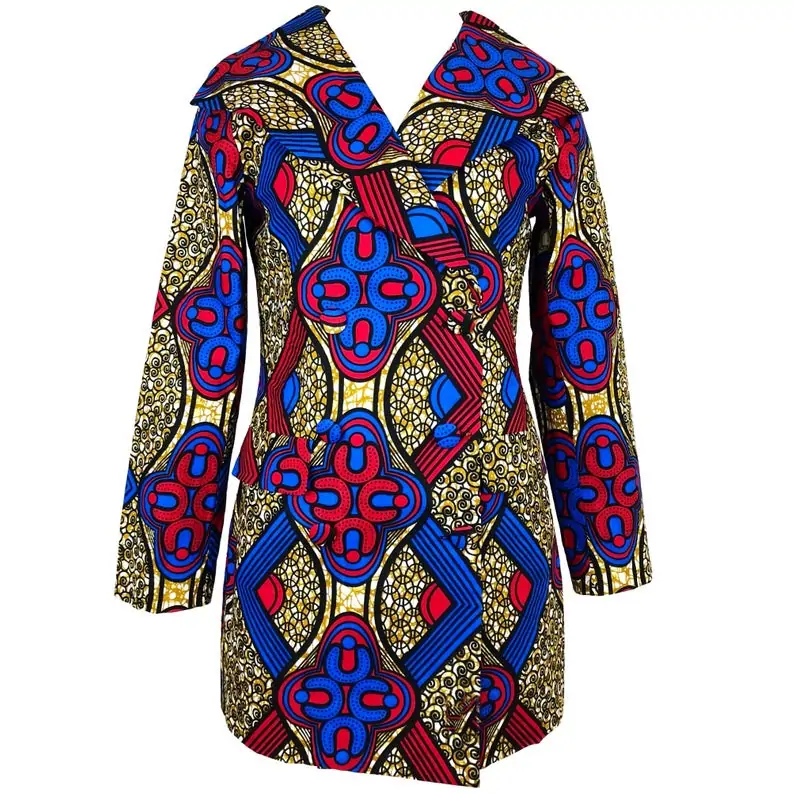 SOPHIA DASHIKI KENTE JACKET BY L'AVIYE
Make way for the queen, please! If you want ankara jackets that intricately incorporate the African culture, you've met your match. Make a statement with this 100% cotton wax print bomber.
It has two functional front pockets and varsity-inspired cuff sleeves for a polished look. Plus the classic round necklace guarantees that you'll rock this bomber stylishly for years to come.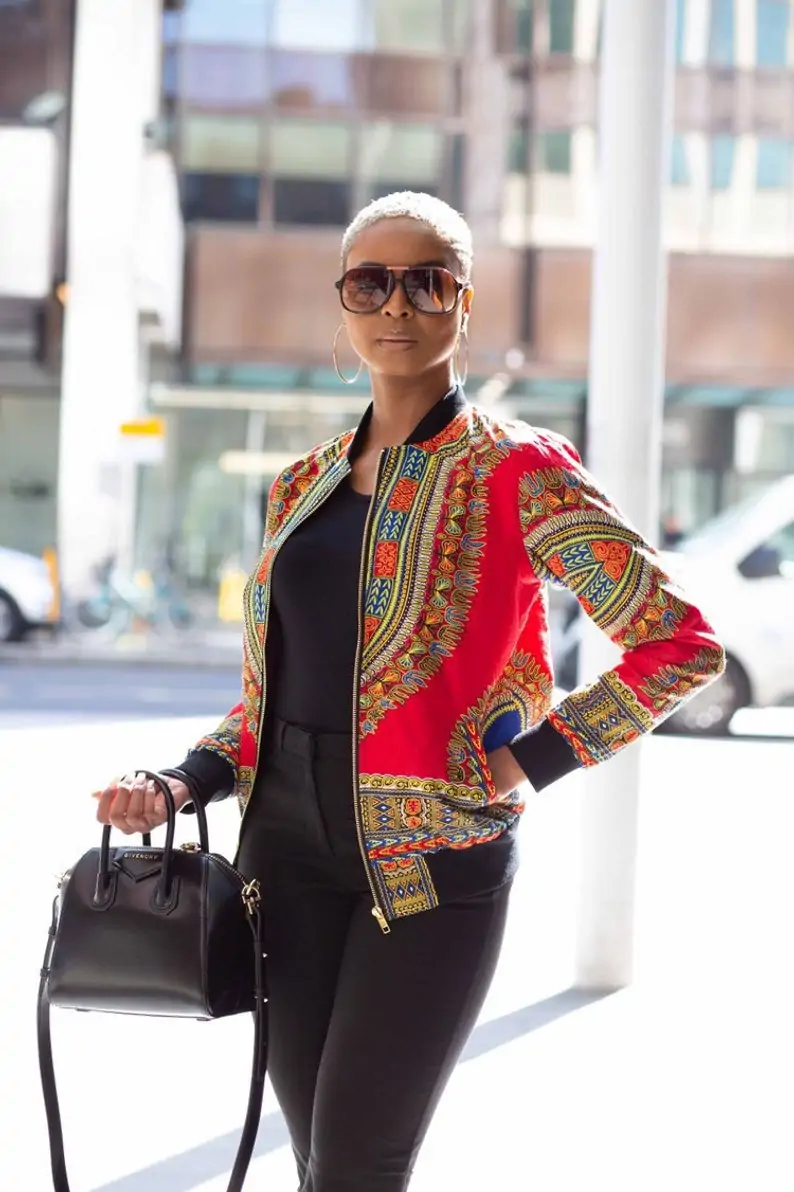 ANKARA BLAZER COAT BY SOSOME
In search of a one-of-a-kind jacket? Sosome got you covered with this drape style patchwork jacket. If you're remotely thinking about getting this ankara blazer, I won't sleep on it. Looks like there's only one left in stock.