Gorgeous Photos of Nigerian Aso-Ebi aka Bridesmaids
Gorgeous Photos of Nigerian Aso-Ebi aka Bridesmaids
In Nigerian culture, families, and friends often wear similar fabric at cultural celebrations to show unity and support. At traditional weddings, the women whom the bride chooses to wear aso-ebi can be thought of as the equivalent of a huge group of bridesmaids. Check out some of the most stunning aso-ebi groups for some African wedding inspiration!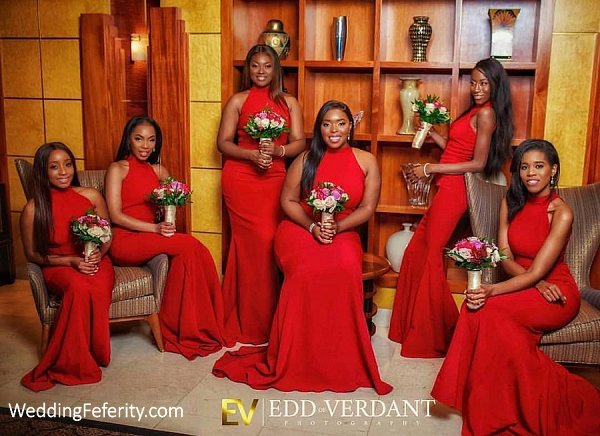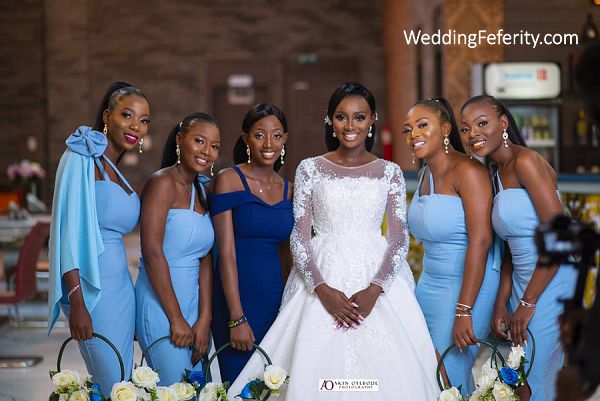 Banging in Blue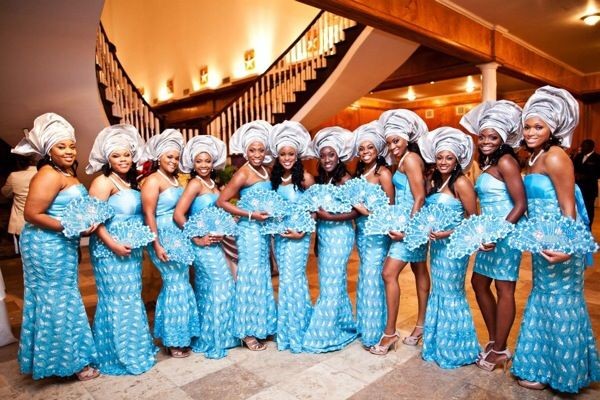 asoebi1
These beauties decided to rock a bright blue aso-ebi with strapless necklines and varying skirt styles, accessorized with silver Geles and matching lace fans. Source.
Fab in Fuschia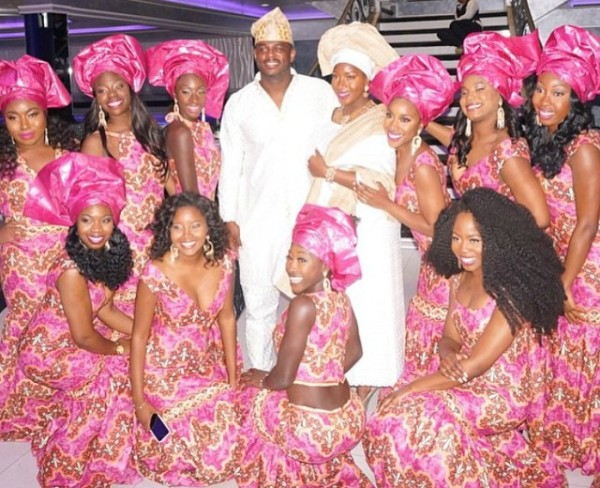 asoebi2
Dunnie Onasanya-Hasan's wedding a few months ago featured aso-ebi outfits for the bridesmaids in a bright Fuschia and gold look. Though all the girls were able to choose whatever neckline they wanted, they all had mermaid-style skirts to complement the bride's dress. Source.
Two-Tone Texture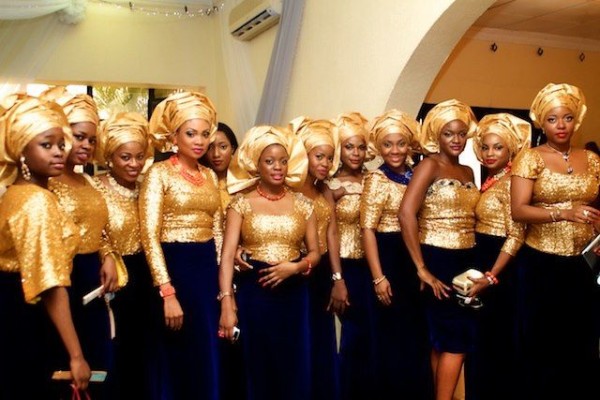 asoebi4
While mixing up colors with the aso-ebo outfits is a great way to bring out the color scheme of your wedding, mixing textures — whether lace and ankara, sequins and velvet, or any other combination — is a great way to make your aso-ebi stand out. Source.
Chocolate‑y Goodness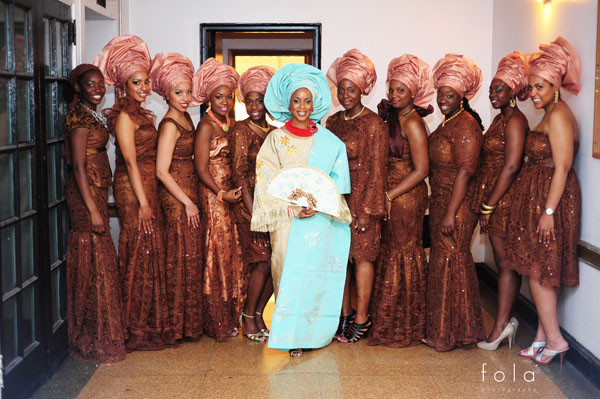 asoebi5
Who says brown doesn't look good on brown skin? This aso-ebi look used a rich brown complemented by a blush gele to make the bridesmaids stand out just enough against the bride's more subdued color palette. Source.
Pretty in Pink
asoebi3Adanma — the twin sister of YouTuber Adanna (of Adanna and David), had her aso-ebi bridesmaids in a subtle pink lace, that some girls accentuated with silver lining. Source.
Royal(ty) Blue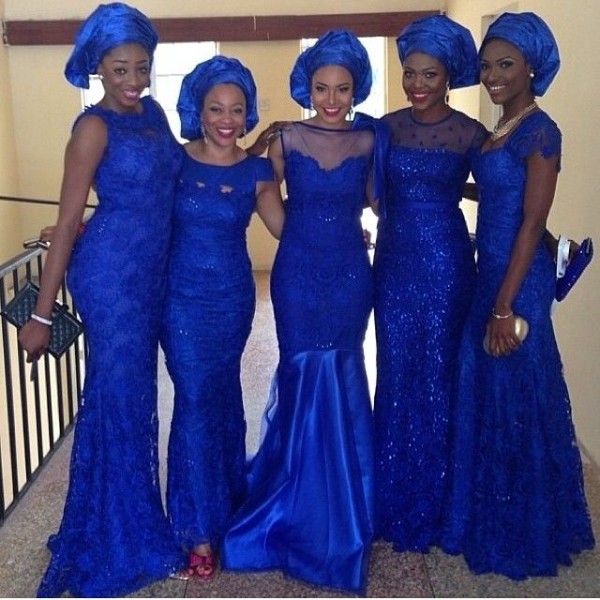 asoebi6
This rich royal blue hue looks AMAZING against brown skin and is a beautiful option for a monochrome aso-ebi look. You can barely notice that one of the aso-ebi girls is wearing a different fabric, so monochrome looks are a great option when you can't get the same fabric to everyone in the aso ebi group. Source.
Hot Like Fire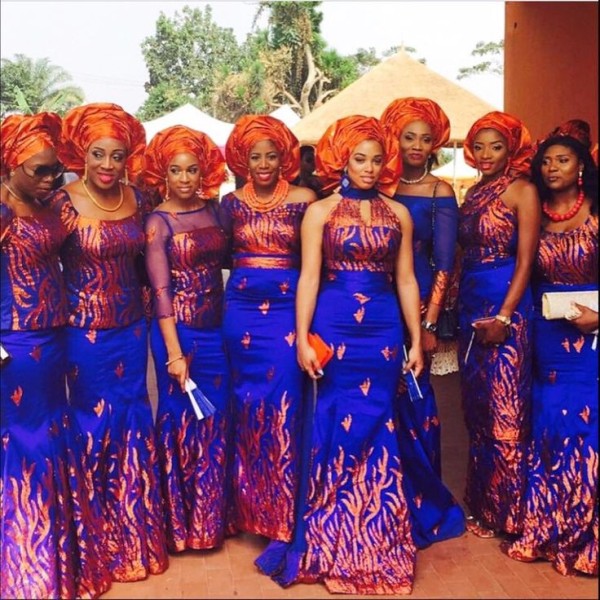 asoebi7
Some aso-ebi fabrics have the design on the bottom half, so this blue and orange fabric was sewn strategically to create beautiful outfits — which look just like a blaze of fire! Source.
Wedding White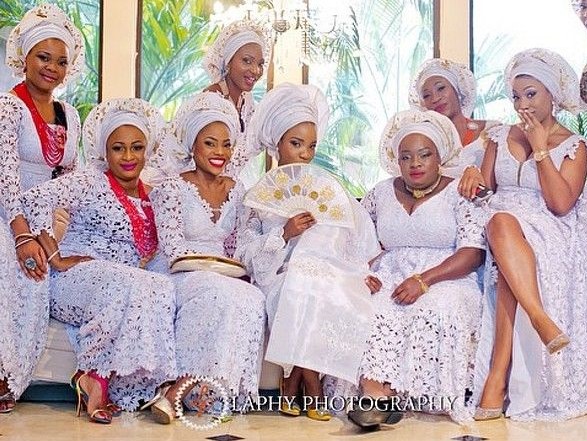 asoebi10
Since many Nigerian weddings are colorful, and trifling guests sometimes go to great lengths to find out wedding colors so they can look like part of the wedding, outfitting your aso-ebi in all white is a great option to make sure you still stand out in the sea of colors at the wedding. Source.
Double (or Triple) the Fun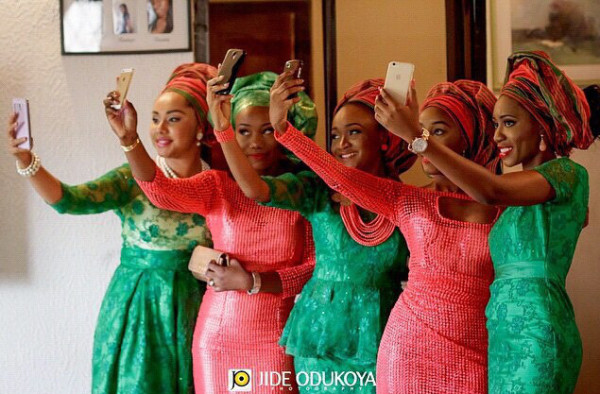 asoebi9asoebi8
A common aso-Ebi choice, especially if you have a lot of friends, is to use the same fabric in two or three colors to mix things up, bring out your wedding colors, or separate your childhood friends from your college homies. Traditionally, different sides of the family also wear different as-is, as simple as a unique Gele color, or as intricate as complete matching fabrics. Source 1, Source 2.