Watch Vegetable curry with pap
Watch Vegetable curry with pap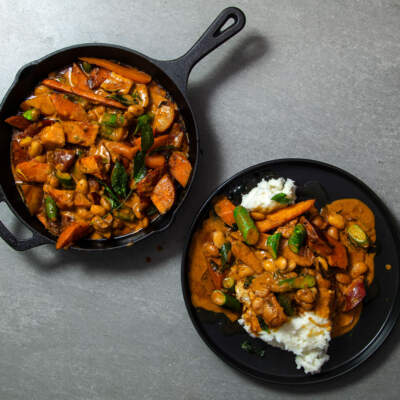 SERVES
4 to 6
DIFFICULTY
Easy
PREP TIME
10 minutes
COOKING TIME
35 minutes
INGREDIENTS
2 t olive oil
1 onion, thinly sliced
1 T garlic, grated
1 T ginger, grated
1 T chili, finely chopped
1 T fresh turmeric, grated
a sprig of fresh curry leaves
1 T Korma curry paste
200 g sweet potatoes, diced
200 g Woolworths medium Apache potatoes, diced
100 g baby carrots, halved lengthways
2 x 400 ml cans of coconut cream
200 g baby marrow, sliced into 2 cm rounds
1 x 400 ml can butter beans
fresh coriander, roughly chopped, for serving
For the pap:
3 cups water
500 g maize meal

1. Heat the oil in a large saucepan over medium heat and sauté the onion until golden brown. Add the garlic, ginger, chili, turmeric, curry leaves, and curry paste, and cook for 2 minutes.
2. Add the sweet potatoes, Apache potatoes, and baby carrots, then pour in the coconut cream and stir through. Bring to a simmer, cover, and cook for 15 minutes, adding the baby marrow in the last 5 minutes of cooking time.
3. To make the pap, bring the water to a rapid boil in a large saucepan. Add half the maize meal and cover. Reduce the heat to medium-low and leave the pap for 8 to 10 minutes stirring occasionally.
4. Remove the lid, then stir vigorously for 1 minute to incorporate any remaining maize meal into the water.
5. Repeatedly mash the pap against the side of the saucepan using a wooden spoon for about 2 minutes to create a smooth consistency.
6. Gradually add the remaining maize meal, stir vigorously, and mash again. Reduce the heat to low, cover, and steam the pap for 10 to 15 minutes, stirring occasionally.
7. Check the consistency of the pap, adjust with water, and mix if necessary.
8. Serve with the curry, garnished with coriander.