Try Butter bean and sorghum salad
Try Butter bean and sorghum salad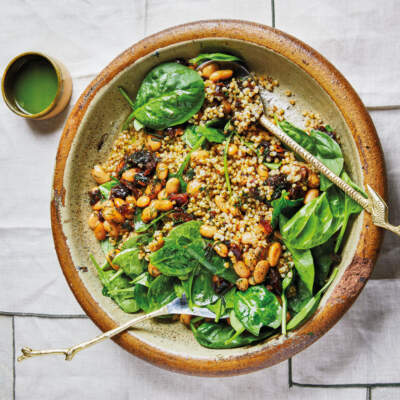 SERVES
6 to 8
DIFFICULTY
Easy
DIETARY CONSIDERATIONS
Plant-Based wheat and gluten-free
PREP TIME
10 minutes, plus overnight soaking time
COOKING TIME
50 minutes
WINE / SPIRIT PAIRING
Ken Forrester Grenache
INGREDIENTS
200 g uncooked sorghum
olive oil, for frying
3 cloves garlic, thinly sliced
a handful of pitted dates, roughly chopped
1 x 400 g can butter beans in brine, drained and brine reserved
sea salt and freshly ground black pepper, to taste
1 T lemon juice
1 cup baby spinach
handful of dill, chopped
COOKING INSTRUCTIONS
1.

Soak the sorghum the day before and cook for 30 minutes, or until soft.

2. Heat the olive oil in a pan over low heat, then add the garlic and cook until soft, making sure it doesn't burn.

3. Add the dates and cook until softened, then add the butter beans and increase the heat slightly. Move the pan around, coating the butter beans and dates with olive oil, then season and remove from the heat. If it's slightly dry, add some brine, a spoonful at a time.

4. Add the lemon juice and allow to cool. Once cooled, roughly chop the spinach and mix all the ingredients.