Dreamy bathrooms that prove curtains are the best way to elevate your own space
Dreamy bathrooms that prove curtains are the best way to elevate your own space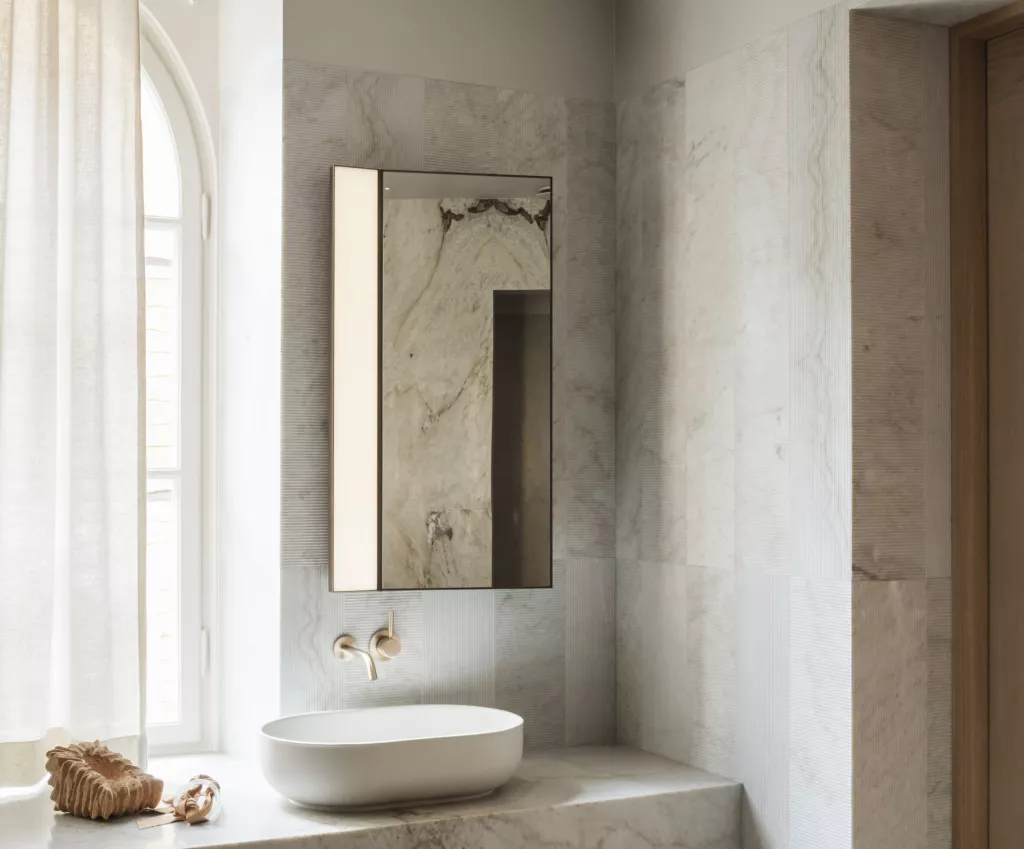 Are you for bathroom curtains? This is one of the most dividing topics in home decor conversations; their need and functionality are often debated strongly on both sides. Many believe that this is a desired design feature, as they help create a spa-like look, along with providing soft privacy. Not to mention that curtains add color, pattern, and even style to a staid space.
If you're still sitting on the fence about whether you need to add curtains to your modern bathroom ideas, we'll help you make the decision. 'One often forgotten detail that we are focusing on more and more is curtains,' says the New York-based interior designer Jarret Yoshida. 'These are becoming an interior design 'must-have', considered like a jewelry to the outfit that is the bathroom.'
Aditi Sharma Maheshwari
Aditi Sharma Maheshwari
Content Editor
Aditi is an experienced home writer and editor. She has written hundreds of articles for various international titles helping readers make the best home design choices, and spends her days interviewing interior industry experts to bring the latest ideas to her readers. For this piece, she spoke to the world's best designers to learn fresh, creative ways with bathroom curtains.
10 BATHROOM CURTAIN IDEAS TO TO ELEVATE YOUR SPACE
1. ADD CAFE STYLE CURTAINS FOR A WHIMSICAL LOOK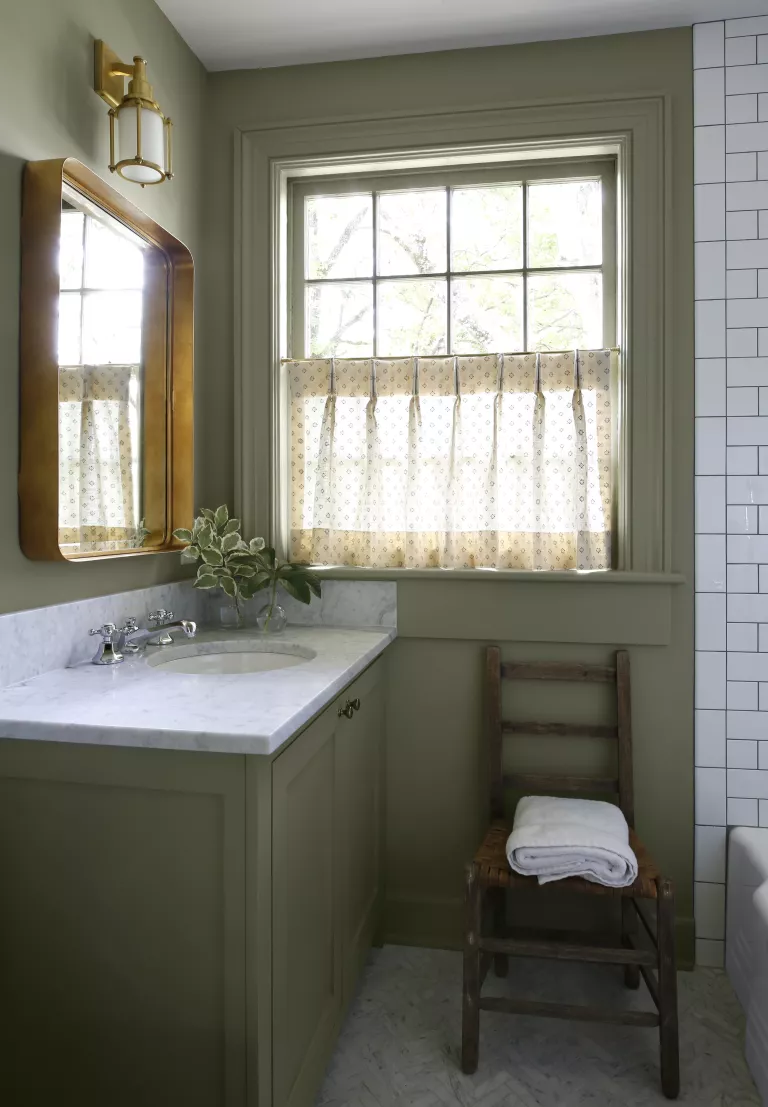 A bathroom with cafe-style curtains
(Image credit: Paige Rumore Photography. Studio credit Stephanie Sabbe)
Add whimsy with cafe-style curtains – a big current bathroom trend. They can make the room feel more intimate while introducing a dose of charm. It's a curtain style that is characteristic of French cafes and restaurants and has an inherently relaxed vibe.
For a bathroom, consider choosing artificial fabrics like polyester that are waterproof, so you will be sure that they stay mildew-free. If you want to hang curtains next to a window that's far from the wet area, you could choose natural materials such as linen or cotton to inject an organic feel to the place.
'I love cafe curtains and use them often,' says interior designer Stephanie Sabbe(opens in new tab). 'Practically speaking, they allow for privacy while not fully blocking natural light. Aesthetically, they ooze with historic charm when done well.'
Textured short curtain from Amazon
GET THE LOOK
Textured short curtain from Amazon
Consider this white, cafe-style curtain to cover a small window in your bathroom while adding a touch of charm to the space. Its solid weave makes it ideal for blocking light and views, and the white tone will merge well with an interior of any style.
VIEW DEAL
2. ACCENTUATE THE HEIGHT OF A ROOM WITH FLOOR-TO-CEILING CURTAINS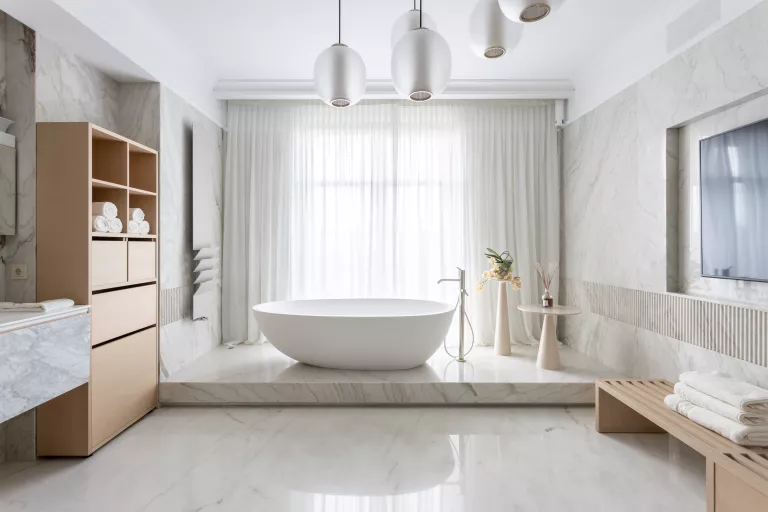 A bathroom with floor-to-ceiling curtains
(Image credit: Andrey Dunin. Studio credit Victoria Zaretsky Architect)
Want to give a more high-end look to your master bathroom? Consider floor-to-ceiling length curtains that will not only create the illusion of elongated windows but also make the entire room feel more voluminous. The neutral color will give a refined feel to the space and help create that luxurious spa-like retreat in your home.
'Consider a neutral fabric option to blend into your bathroom's hard finish selections, however, if you want to make an impact, select a bold fabric that is a standout piece on its own that may not merge with the bathroom but provides a pop of color,' says Lauren Lerner, founder of Living with Lolo(opens in new tab).
3. BREAK A BUSY WALLPAPER WITH WHITE CURTAINS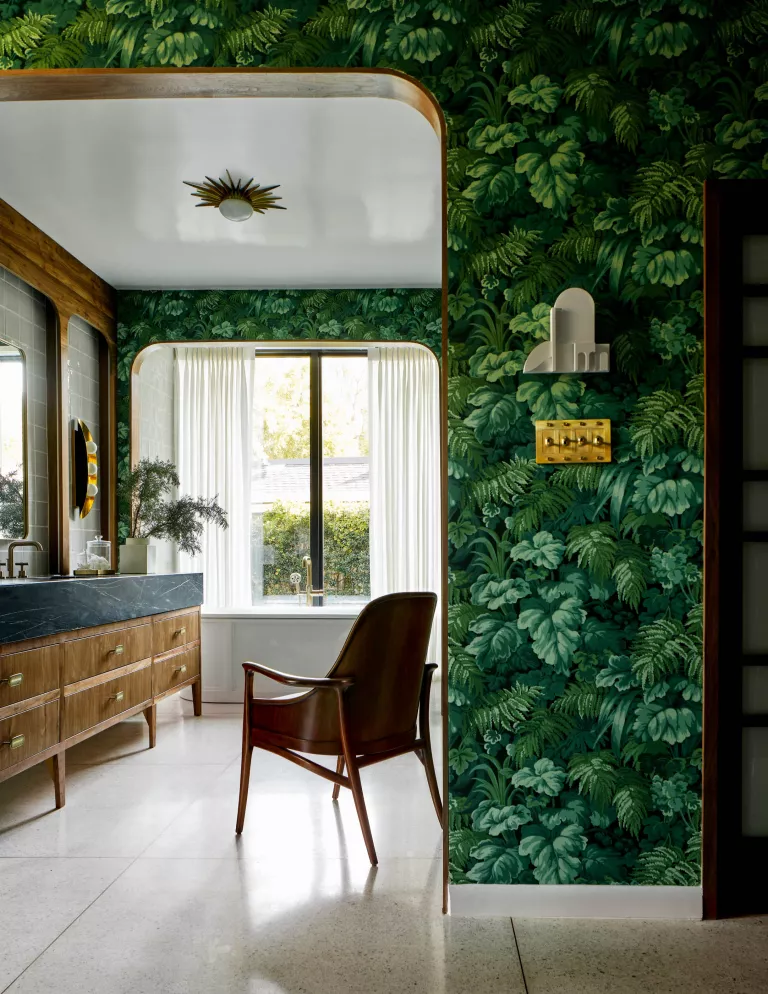 A bathroom with wallpaper and a white curtain by the bathtub
(Image credit: Nathan Schroder. Studio credit Maestri Studio)
Bathrooms are private spaces meant for rejuvenation, so, it's important to consider the mood you like to create here. Color and prints can influence the aesthetics, but you want to make sure you don't overdo it, lest the space starts feeling too busy, cluttered, and chaotic.
Contrasts can make a great visual impact and give break from the monotony. If your bathroom wallpaper is packed with bright colors, choose a long, cotton, or sheer white curtain by the window to break the pattern, balancing the look of the space.
Do note, that if you're hanging a curtain by the bathtub, it's advisable to go with short or cafe curtains as these are a safe option. Besides, the relatively lesser use of fabric reduces the weight of the curtains, making them that much easier to operate, pull and tie up. But if it's a look of luxury you want, and the bathroom size works in your favor, long drapes are the default choice.
4. CURTAINS CAN SEGREGATE AN ENSUITE BATHROOM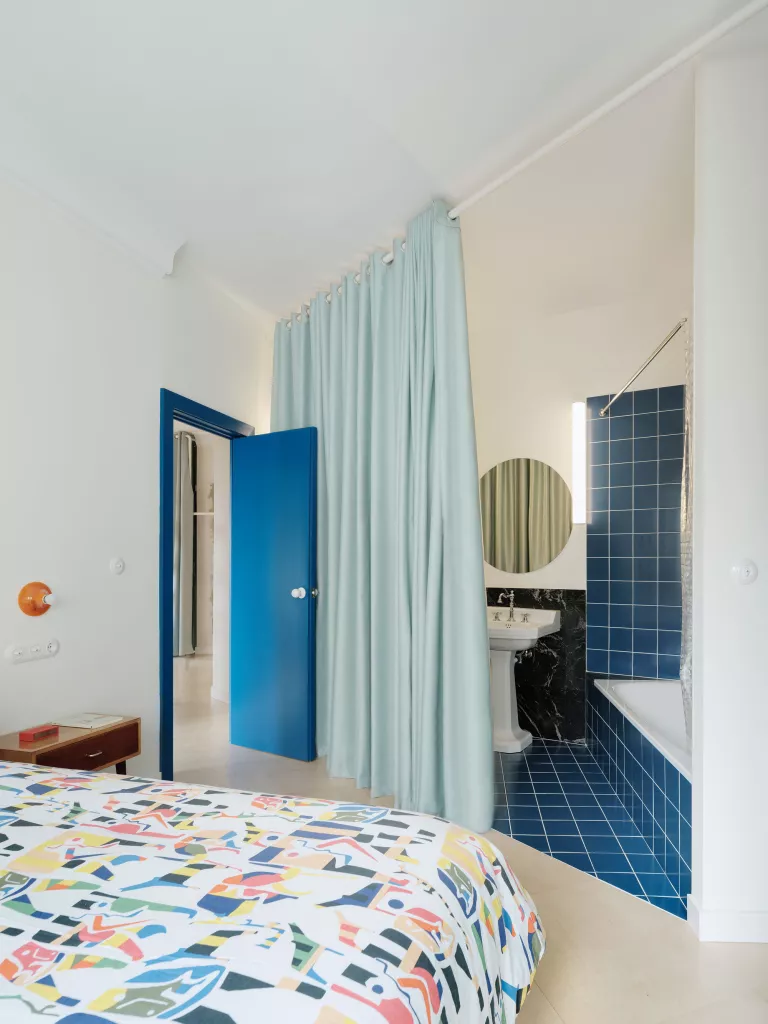 A bedroom with curtains dividing the room
(Image credit: Luis Diaz Diaz. Studio credit Azab)
Who says curtains are just for the windows? These soft beauties can be used to separate an ensuite bathroom from the rest of the master bedroom in a stylish manner, just like in this project by Azab(opens in new tab).
What's best about these subtle separators is that they are easier to maintain than glass screens (where limescale is often an issue), and are better than installing a door (as the feeling of an ensuite bathroom gets diminished). These provide privacy without completely isolating the user from the room. There are plenty of patterns available in curtains, meaning you can change the whole look of your room and the bathroom with one small tweak.
5. OR EVEN SPACES WITHIN THE BATHROOM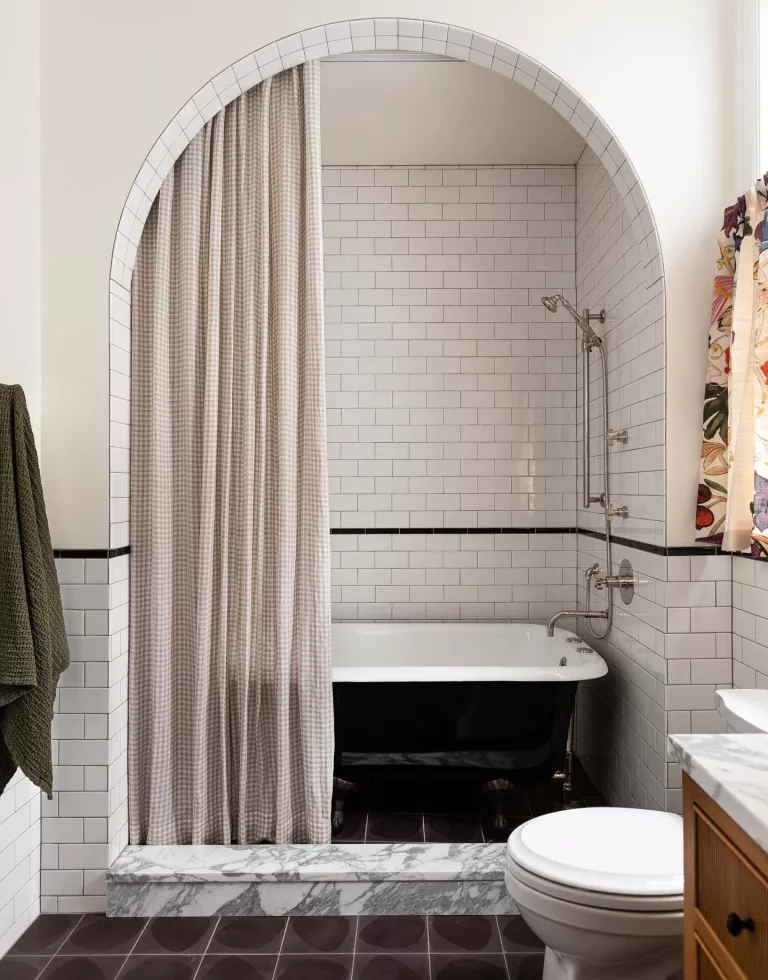 A bathroom with curtains dividing the bathtub
(Image credit: Haris Kenjar. Studio credit Heidi Caillier)
Have a large bathroom and want to create zones within the space? Consider the magic of curtains. This is especially helpful if you have a shared bathroom where two people can use the space at the same time while getting privacy.
'Using drapery inside a wet area like a shower can be often problematic, where it's best to stay away from fabrics and use perhaps polyester,' says Lauren. 'Instead, consider a curtain a little away from the shower, or on the periphery of the wet space, as it will require little to no maintenance. You can even choose shower curtains that have the 'look' of a curtain for a softer feel.'
6. USE CURTAINS TO FRAME STUNNING VIEWS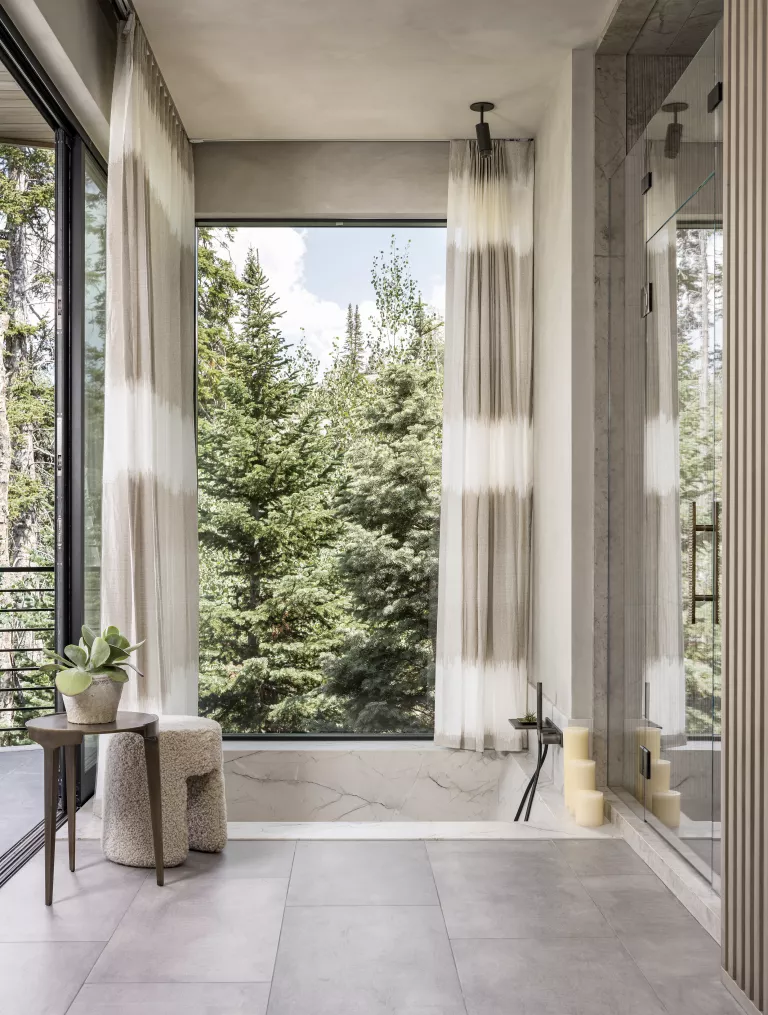 A bathroom with long curtains framing views
(Image credit: Joshua Caldwell. Studio credit AMB Design Inc)
Have a luxurious, spa bathroom that opens up views to the beautiful, verdant outdoors? Don't let this view go to waste and frame it with curtains that look wonderful when pulled back, making it the focus of the room.
Choose tones that complement the room, so the curtains don't steal focus from the window yet add layering to the space. For privacy reasons, you will however, need to operate them often, so consider incorporating rings or eyelets as they glide easily on the drapery rods, making pulling in and out much smoother.
Karo curtain from Lulu and Georgia
GET THE LOOK
Karo curtain from Lulu and Georgia
Looking for a shower curtain that isn't the regular plastic or polyester variety? Consider this rich, two-tone piece made in soft, breathable cotton, handcrafted in Ethiopia.
VIEW DEAL
7. INSTALL HALF CURTAINS ABOVE THE COUNTERTOP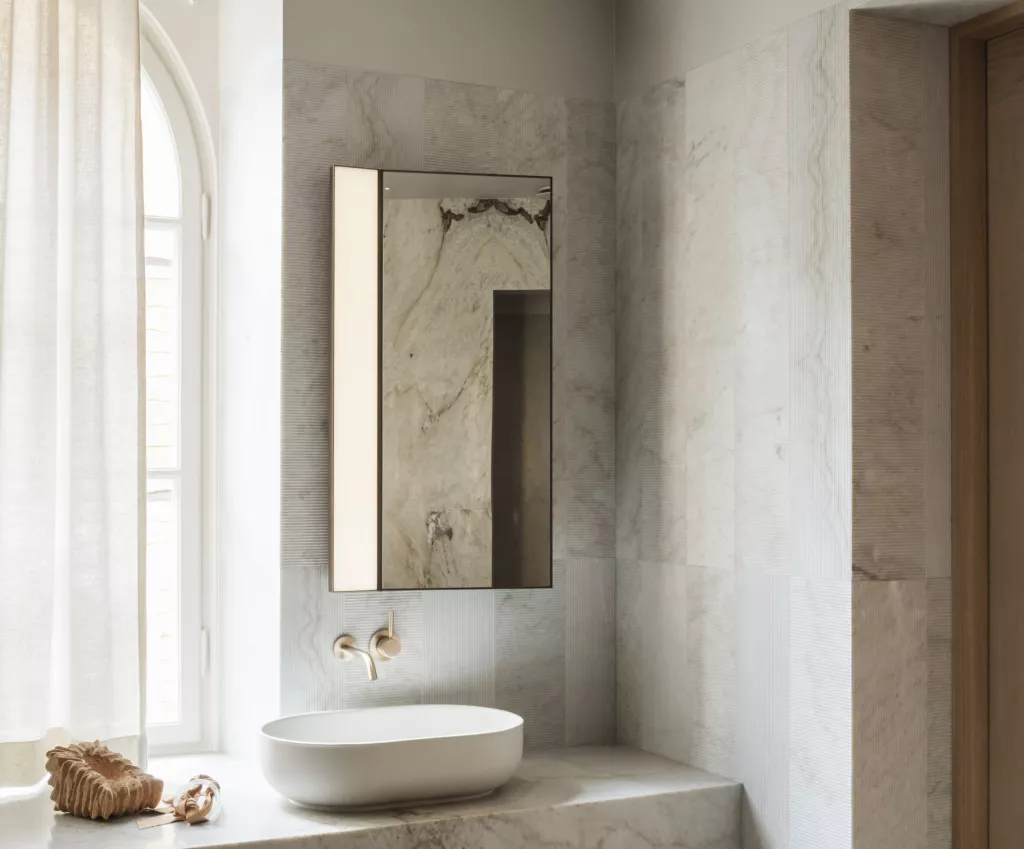 A bathroom with curtains on the vanity window
(Image credit: Note Design Studio)
Curtains can be great candidates for vanity windows too. Sill-length, short curtains offer better privacy and are great for bathroom windows facing busy lanes. In a small bathroom layout, where you may not want to add shutters or drapes that completely block out all light and make the space feel smaller, curtains do just fine.
While installing these, you can either make them touch the countertop or hang them a few inches below the sill. Covering the entire window will guarantee full privacy. Besides, you can trust that they won't overwhelm the small space.
Semi-sheer white curtain from Walmart
GET THE LOOK
Semi-sheer white curtain from Walmart
This modern style curtain in soft, subtle texture will enhance the appearance of any room. Easy to use and install, its sheer fabric will ensure the bathroom receives filtered natural light all day long.
VIEW DEAL
8. INJECT PATTERN WITH CURTAINS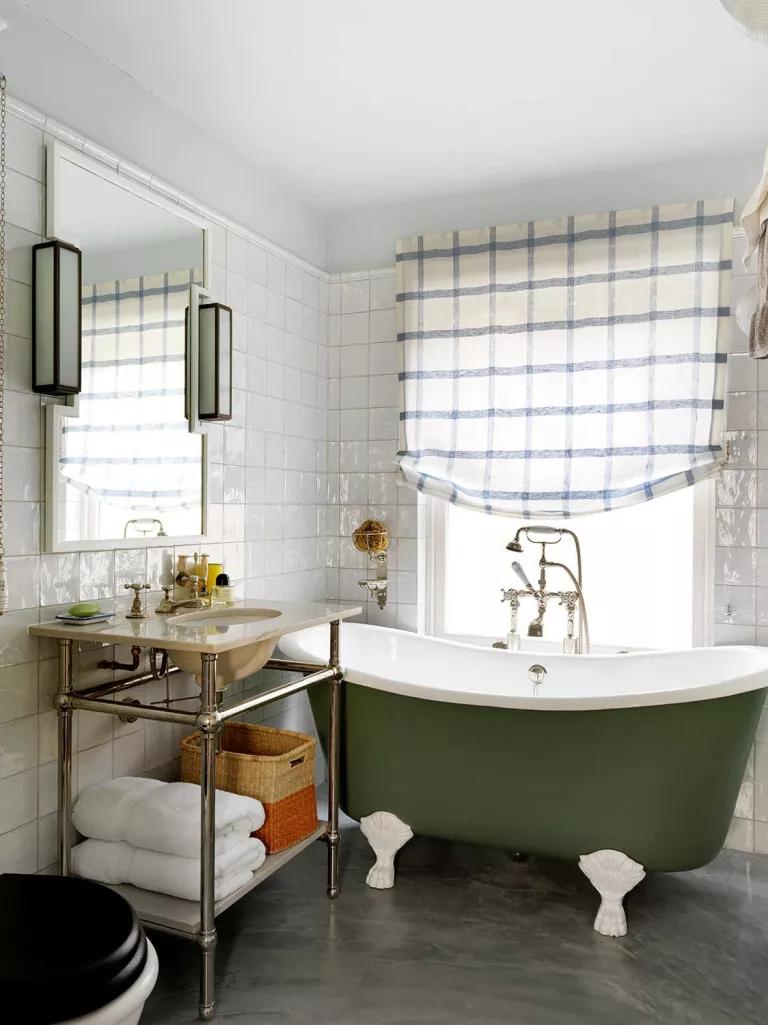 A bathroom with check patterned curtains
(Image credit: Simon Brown. Studio credit Beata Heuman)
Curtains can add a moderate dose of pattern, and even contribute to the bathroom color ideas. Patterned curtains can inject a much-loved surprise in a small area, and are highly recommended in solid-toned rooms. The play of shapes and hues in the motifs brings dynamism, fun, and even depth to the room. Plus, vibrant patterns inside a room designed with hard, natural stones like marble or terracotta add softness.
Want to add a little more charm to the curtain. Consider tying them in decorative bands. Even trimmings can add an indispensable allure.
9. ADD A VALANCE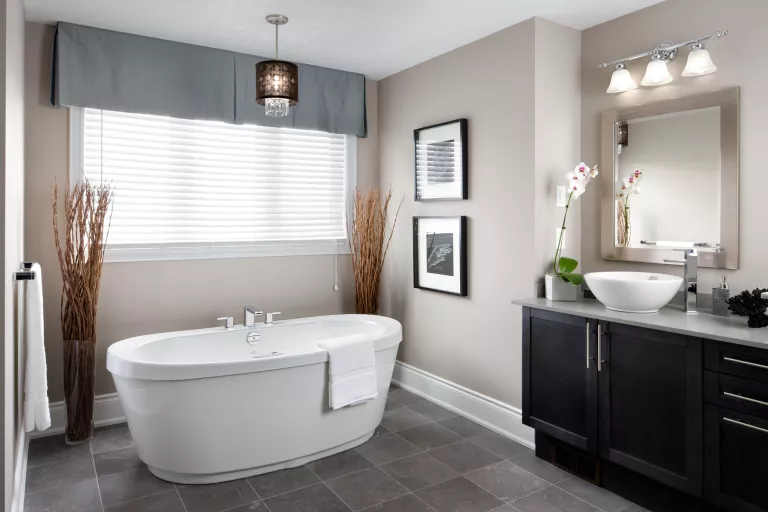 A bathroom with a valence
(Image credit: Brandon Barre. Studio credit Jane Lockhart)
Not only are valances a wonderful modern window treatment that adds a decorative touch to a space, but they also veil or cover drapery hardware or even architectural flaws, thus giving the room a cleaner and more organized look.
'The bathroom does not have a lot of opportunities to soften it from all the hard tile and glass elements,' says Jane Lockhart of Jane Lockhart Design(opens in new tab). 'To make a bathroom feel more spa-like, we try to add a fabric window valance where we can. This adds a soft detail that doesn't require cleaning, nor does it get in the way of bathing or washing. A valance is low cost – generally speaking – and can hide the mechanics of a blind underneath, so the window remains clean and sleek while creating a focal point around the tub.'
10. BRING IN BLACKOUT CURTAINS FOR COMPLETE PRIVACY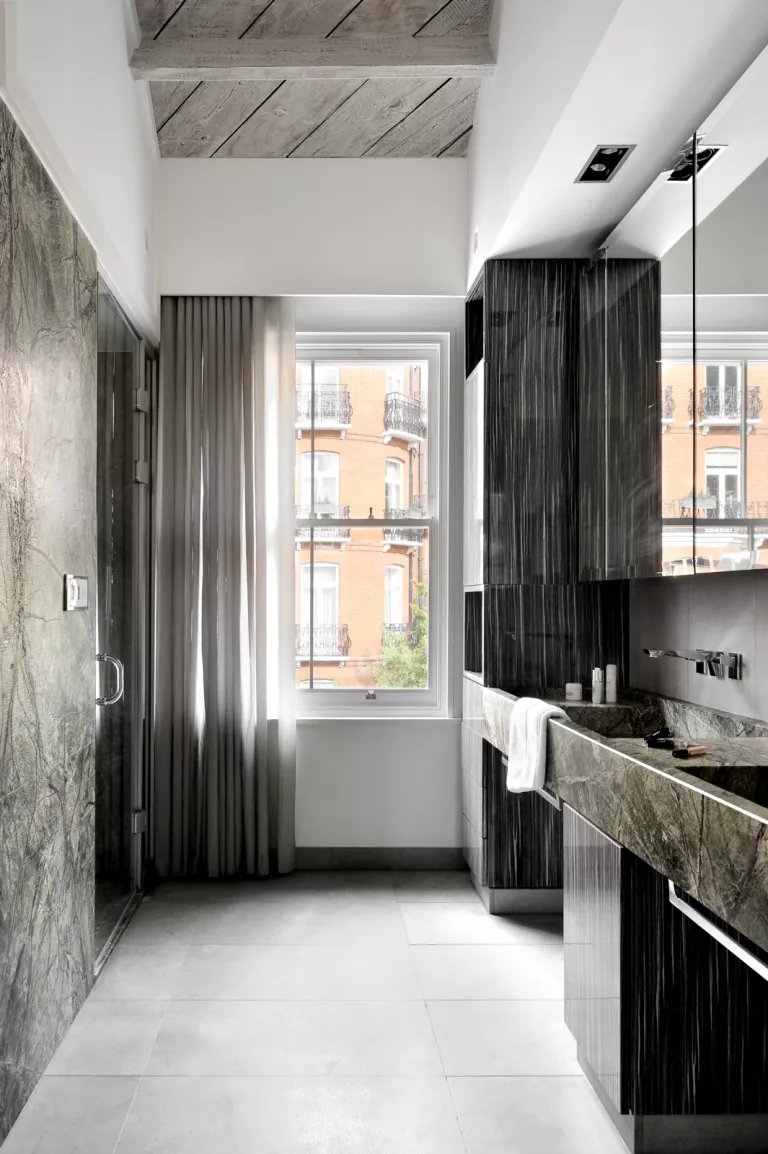 Blackout curtains for bathrooms
(Image credit: Future)
If you live in a rental and can't install window shutters or other structural additions to your bathroom then a great option is blackout curtains. Choose thick drapery or even double curtains to completely shut out all the views, noise, and even light when you need total privacy. These will also allow your bathroom chandelier or ceiling lights to take focus, and wash over the space in warm yellow illumination.
Choose ones that are created with polyester or a combination of polyester and cotton. Even a heavy microfiber is an excellent option, especially if it has triple-weave. These fabrics can block out almost 90% of light, and even balance the temperature of the room using their insulating features.
WHAT TYPE OF CURTAINS ARE BEST FOR THE BATHROOM?
If you're wondering how to remodel a bathroom and are focusing on only the hardware and heavy fixtures, we suggest you give the soft furnishings a thought too. Ideally, it's best to choose lightweight, machine-washable fabrics or bathroom curtains made of linen, cotton, or polyester. These dry quickly and are easy to clean.
Having said that, efficient ventilation is equally important to save your curtains from mold. Exhaust fans are essential; also try to keep the windows open when the space is not in use to get rid of humidity and moisture.