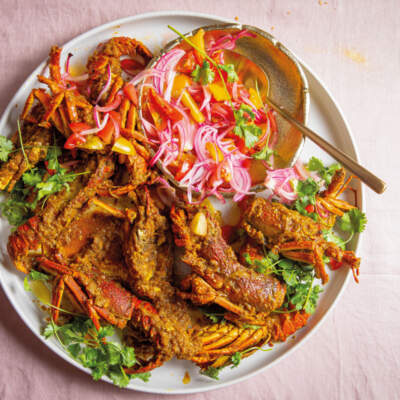 Woolworths is committed to sustainability via our good business journey. Seasonal (and other) products might not always be in stock.
"This is one of my favourite curries and the best way to eat crayfish"
1 kg crayfish tails(approx. 20 tails)
4 T sunflower oil
2-3 large onions, grated
2 ripe tomatoes, peeled and grated
1 green pepper, seeded and grated
1 T garlic, crushed
1 t crushed dried chillies (optional)
5 cloves
5 allspice
1 t ground turmeric
1 t garam masala
1 T ground jeera (cumin)
1 T seafood masala
1 T mixed spice
1 T leaf masala
1 t salt
rice, for serving
1. Clean the crayfish, cut it in half and devein. Wash well and set aside.
2. Heat the oil in a large saucepan and fry the onions until golden, 5–10 minutes. Add the tomatoes, green pepper, garlic and chillies and cook for 10 minutes. Add the remaining spices and salt and cook until the sauce is thick about 10 minutes.
3. Add crayfish to their shells and cook over medium heat for 15 minutes. Serve hot with rice.