Strawberry Rhubarb Crumble recipe is such an easy dessert
Strawberry Rhubarb Crumble recipe is such an easy dessert
With a streusel topping and luscious bubbly fruit, this Strawberry Rhubarb Crumble recipe is such an easy dessert. Perfect for a simple on-the-fly treat.
More ways to enjoy rhubarb include our strawberry rhubarb pie and rhubarb coffee cake.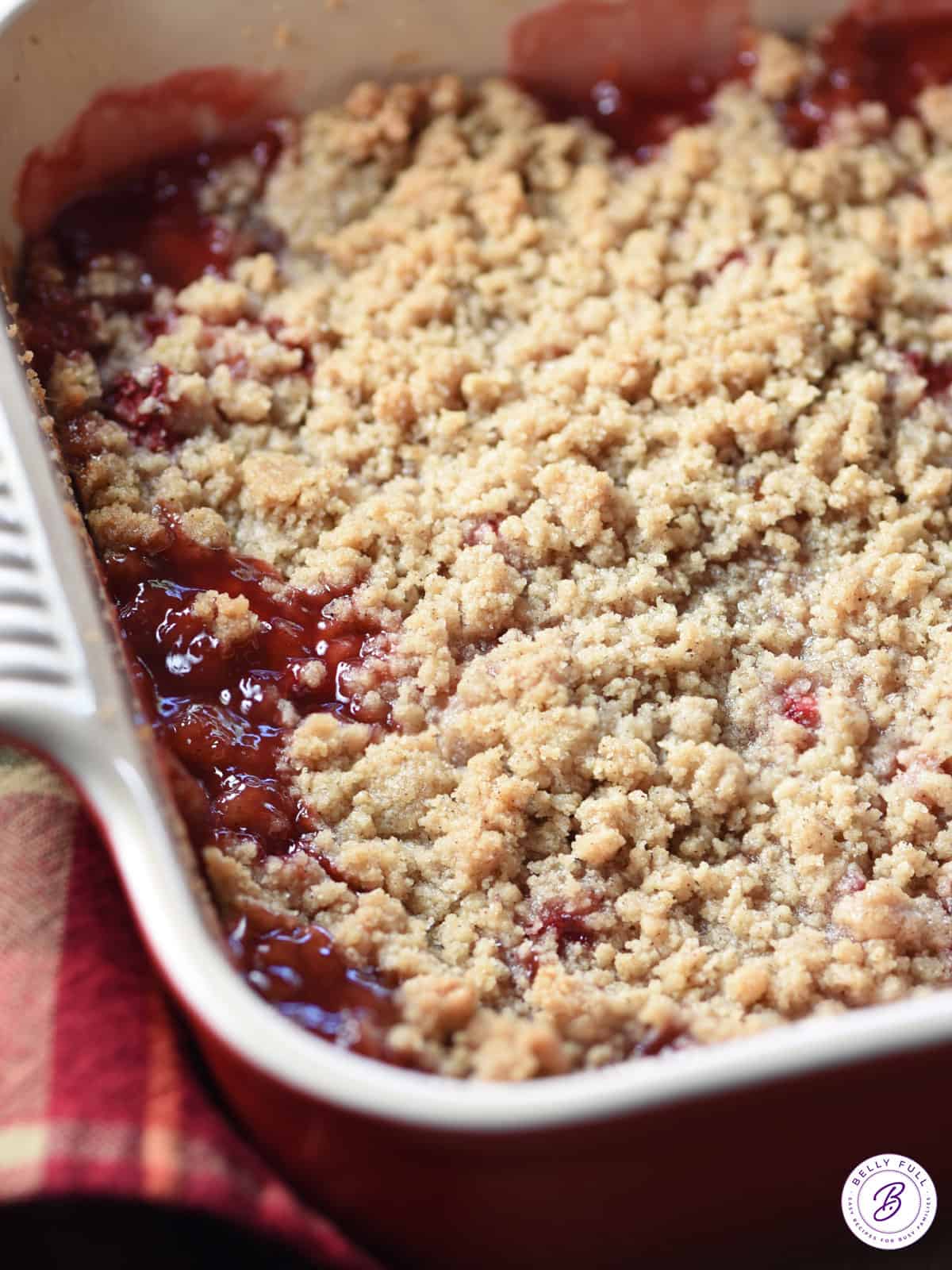 strawberry rhubarb with crumble topping in baking dish
Easy Strawberry Rhubarb Crumble Recipe
Years ago when we lived in Minnesota, our next door neighbor had several rhubarb plants. He hated them, not realizing what a gold mine he was sitting on. I asked him if I could have the stalks and he looked at me with shock and delight. "Take them all!" he said. And after that, every year when I saw them grow, I would walk over, cut them, and bring them home to make this Strawberry Rhubarb Crumble.
Rhubarb acts and tastes like a fruit, but it's actually a vegetable. It's very tart, so balanced out with something sweet like strawberries (and doused in sugar, of course) it's so great for jams, sauces, and baked goods like this easy crumble dessert.
What is the Difference Between a Crumble, Crisp, and Cobbler?
Crumbles are the easiest dessert and so versatile, using whatever is in season.
Crumble – a crumble is a baked fruit dessert with a layer of streusel topping, consisting of flour, sugar and butter.
Crisp – similar to a crumble, but here the streusel topping includes oats, which crisps up as it bakes.
Cobbler – a cobbler is a baked fruit dessert with a thick biscuit topping, dropped onto the fruit in small rounds, making it look like a cobbled road. Cobblers can also be made with cake batter or cookie dough, which are also so yummy!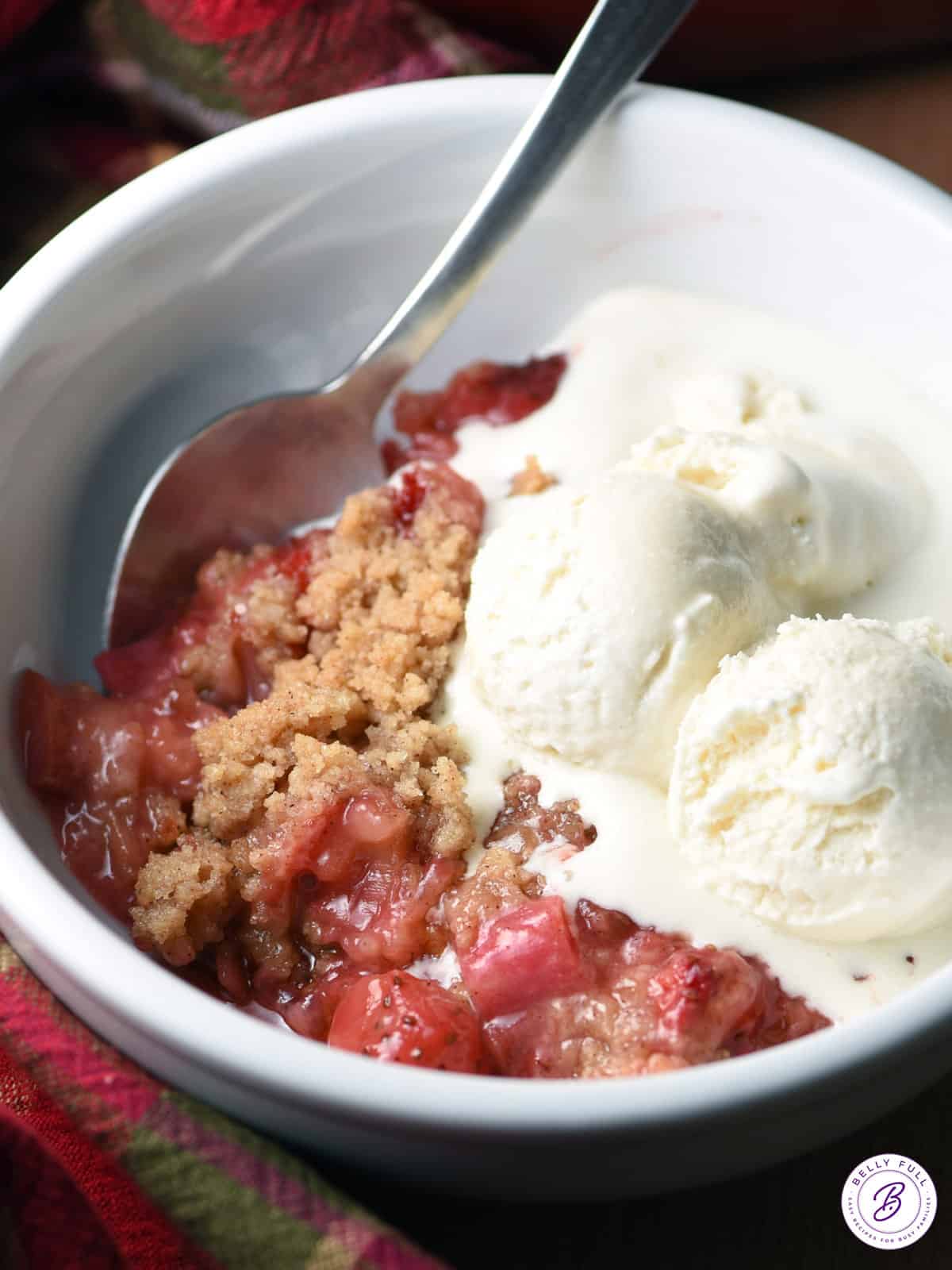 baked strawberry rhubarb with vanilla ice cream in bowl
Ingredients Needed
You only need a handful of simple ingredients to make this crumble recipe.
(Scroll below to the printable recipe card for details and measurements.)
Strawberries – Cut into quarters.
Rhubarb – Cleaned, ends trimmed, cut into 1/2-inch pieces.
Granulated sugar – This is used in both the fruit filling and the topping.
Brown sugar – Provides sweetness and notes of molasses.
Cornstarch – To help thicken the filling.
Cinnamon – Adds a warm flavor to the dessert.
Unsalted butter – The base of the crumble topping. Be sure that it is cold. Cut into chunks.
All-purpose flour – Mixed with the butter to create the crumble.
Salt – For flavor.
Can I Use Frozen Fruit?
This strawberry rhubarb crumble can be made with either fresh or frozen strawberries and rhubarb. But, I personally think fresh is the way to go. In my experience when comparing, the fresh ingredients taste so much richer and wonderful.
Frozen works though, if you're in a pinch or if you're trying to make the produce last longer. It's not necessary to let the fruit thaw first before using, as long as it's chopped. If you do let it thaw, however, drain any liquid.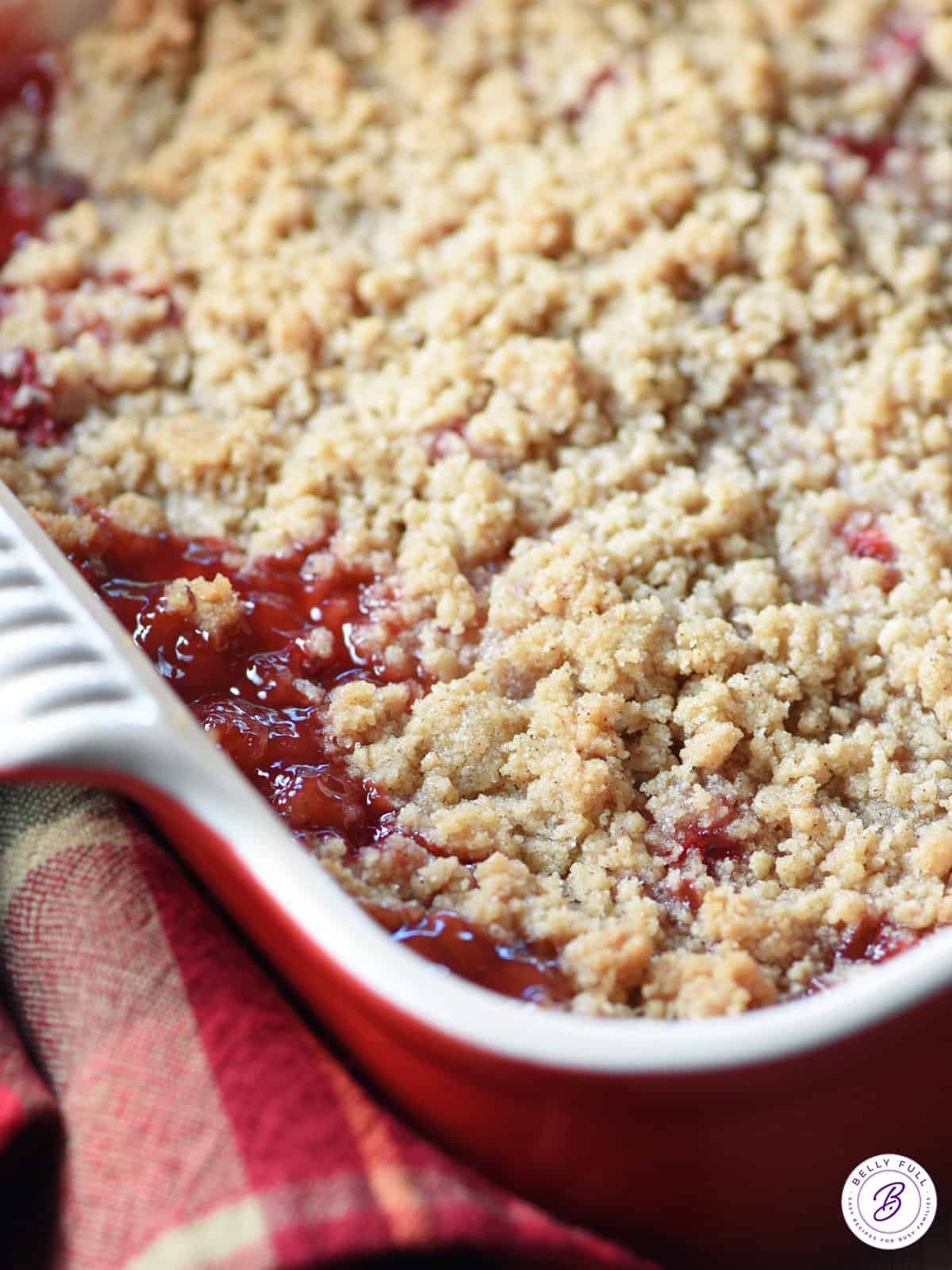 bubbly strawberries with crumble topping in baking dish
How to Make Strawberry Rhubarb Crumble
This crumble recipe is so easy to make in just a few simple steps.
(Scroll down to the printable recipe card for all the details and don't miss the helpful tips and video below.)
Combine the filling ingredients. Toss the strawberries and rhubarb with the sugar, cornstarch, and salt, making sure everything gets mixed. Pour into a 9×9 baking dish that's coated with nonstick cooking spray.
Make the crumble topping. Mix the flour, brown sugar, granulated sugar, cinnamon, and salt. Work in the butter with your hands, until large moist clumps form. Evenly sprinkle over the strawberry-rhubarb mixture.
Bake. Transfer baking dish onto a foil-lined baking sheet. Place in the oven on the middle rack and bake at 375F until topping is browned and fruit is bubbly and tender underneath, about 45 minutes.
Let cool and serve. Allow to cool for 10-15 minutes. Serve with ice cream or whipped cream!
Video: Strawberry Rhubarb Crumble
Proper Storage
This rhubarb dessert is best served right from the oven while it's fresh and warm (especially with some ice cream or whipped cream), but leftovers are certainly enjoyable, too!
Storing leftovers. Store any leftover crumble in an airtight container in the refrigerator. It will keep for 3 to 4 days.
Reheat. Heat portions in the microwave until warmed through. You can also reheat in the oven. Remove dish from the fridge and bring to room temp and bake at 350 degrees F about 15-20 minutes until warmed through. (Cover with foil if topping is over-browning.)
Freeze. Allow to cool completely, then transfer to a freezer-safe container and store in the freezer for no longer than 2 months for best results. Thaw in the fridge.